Local 391 Executive Board Letter to Members Regarding COVID-19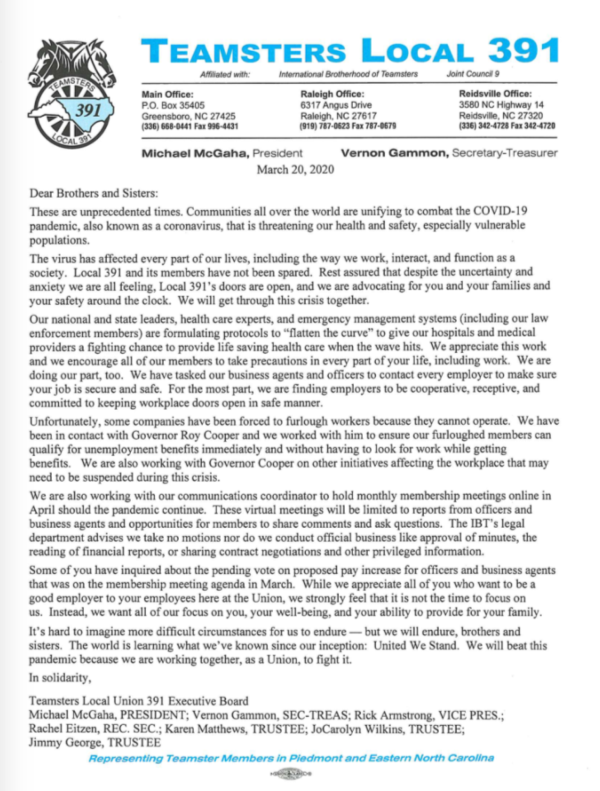 This letter regarding the COVID-19 pandemic was sent to all Local 391 members on Friday, March 20, 2020.
Dear Brothers and Sisters:
These are unprecedented times. Communities all over the world are unifying to combat the COVID-19 pandemic, also known as a coronavirus, that is threatening our health and safety, especially vulnerable populations.
The virus has affected every part of our lives, including the way we work, interact, and function as a society. Local 391 and its members have not been spared. Rest assured that despite the uncertainty and anxiety we are all feeling, Local 391's doors are open, and we are advocating for you and your families and your safety around the clock. We will get through this crisis together.
Our national and state leaders, health care experts, and emergency management systems (including our law enforcement members) are formulating protocols to "flatten the curve" to give our hospitals and medical providers a fighting chance to provide life saving health care when the wave hits. We appreciate this work and we encourage all of our members to take precautions in every part of your life, including work. We are doing our part, too. We have tasked our business agents and officers to contact every employer to make sure your job is secure and safe. For the most part, we are finding employers to be cooperative, receptive, and committed to keeping workplace doors open in safe manner.
Unfortunately, some companies have been forced to furlough workers because they cannot operate. We have been in contact with Governor Roy Cooper and we worked with him to ensure our furloughed members can qualify for unemployment benefits immediately and without having to look for work while getting benefits. We are also working with Governor Cooper on other initiatives affecting the workplace that may need to be suspended during this crisis.
We are also working with our communications coordinator to hold monthly membership meetings online in April should the pandemic continue. These virtual meetings will be limited to reports from officers and business agents and opportunities for members to share comments and ask questions. The IBT's legal department advises we take no motions nor do we conduct official business like approval of minutes, the reading of financial reports, or sharing contract negotiations and other privileged information.
Some of you have inquired about the pending vote on proposed pay increase for officers and business agents that was on the membership meeting agenda in March. While we appreciate all of you who want to be a good employer to your employees here at the Union, we strongly feel that it is not the time to focus on us. Instead, we want all of our focus on you, your well-being, and your ability to provide for your family.
It's hard to imagine more difficult circumstances for us to endure — but we will endure, brothers and sisters. The world is learning what we've known since our inception: United We Stand. We will beat this pandemic because we are working together, as a Union, to fight it.
Teamsters Local 391 Executive Board
Download:

All Mbrs reCoronavirus 032019.pdf